School ERP Software Company in Tamil Nadu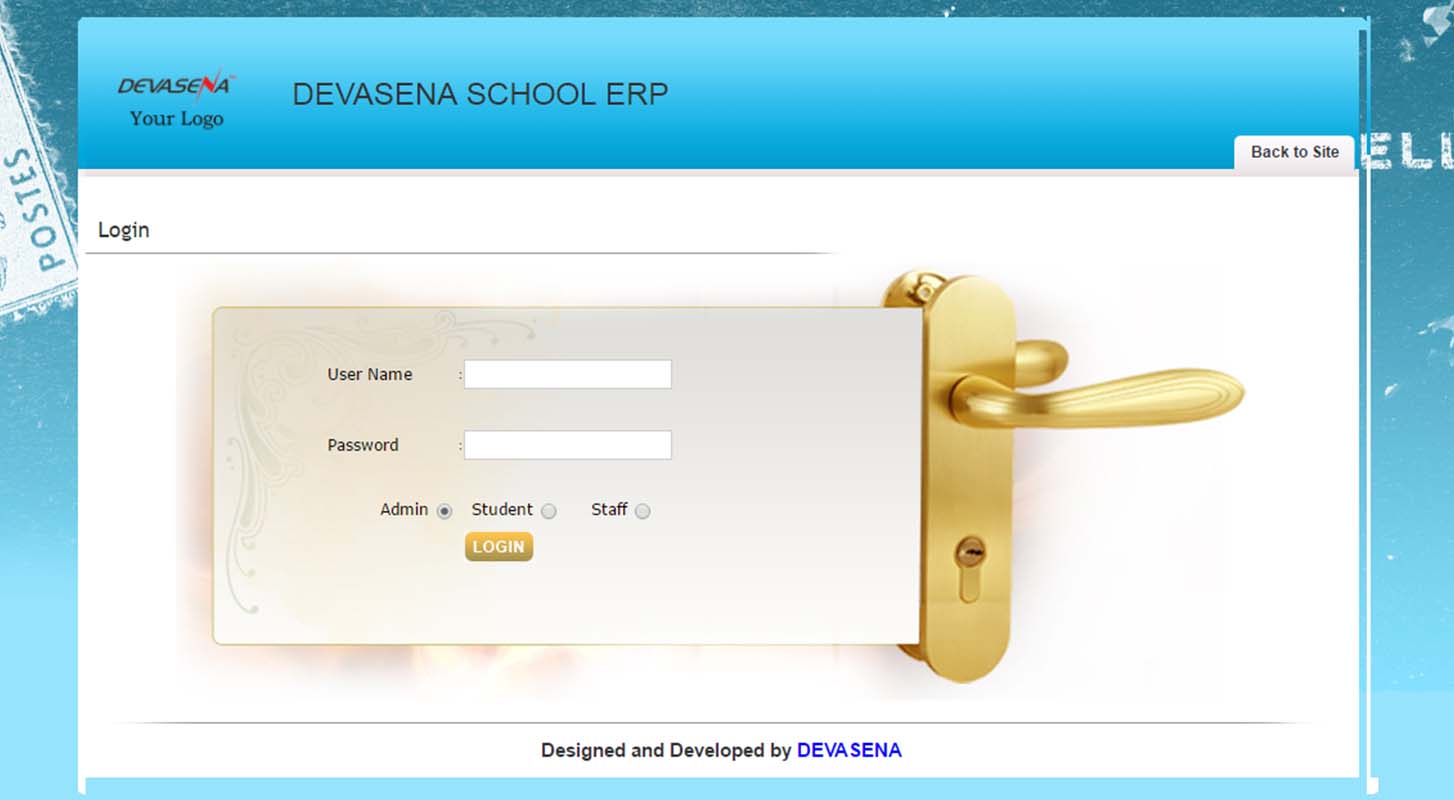 Devasena has developed Advanced School Management Software with high flexibility to 5th generation application.
Admin Login

Username : admin

Password : admin

Student Login

Username : student

Password : student@123

Staff Login

Username : staff

Password : staff@123
Rs.30,000
(+18% G.S.T) Rs.35,400
We have classified our software into four major divisions as administration of school, teacher, student and parent modules. By using our scripts the entire school can be managed relatively with multiple functionalities and also specifically our script supports multi-language, multiple user accounts, user friendly functions and fees management.
Our Advanced School Management System helps you to easily access the school database from remote places.Using our script you can control the daily attendance details, transaction details, profile settings, internal message and transformation management system. Now-a-days as everyone know that without software support is very hard to run any organization especially for education industries and that's the reason we have fully developed educational management software. It supports all education industries not only limited to schools, so we are ready to do slight modification for colleges and universities also.
| | |
| --- | --- |
| License | For use on any personal, commercial, or client projects. |
| Hosting Requirements | MySQL 5.0 or higher, Apache module, PHP 5.3 or higher, Linux Server with Cpanel |
| Platform | Core PHP |
| Features | Admin Login, Students Login, Staff Login |
| Server Requirements | Linux |
| Domain Usage | Single domain with source code |
| Coding | PHP, MySQL, Javascript, Ajax ,HTML |
| Payment Type | 1st Year - Rs.30,000 and Renewal Charge Rs.10,000/Year |
| Delivery Time | We will Deliver you Within 24 hrs On Working Days(Monday- Friday) after making Full Payment and the scripts will deliver within 48 hours On Weekend(Saturday -Sunday) |