Billing Software ERP (Offline)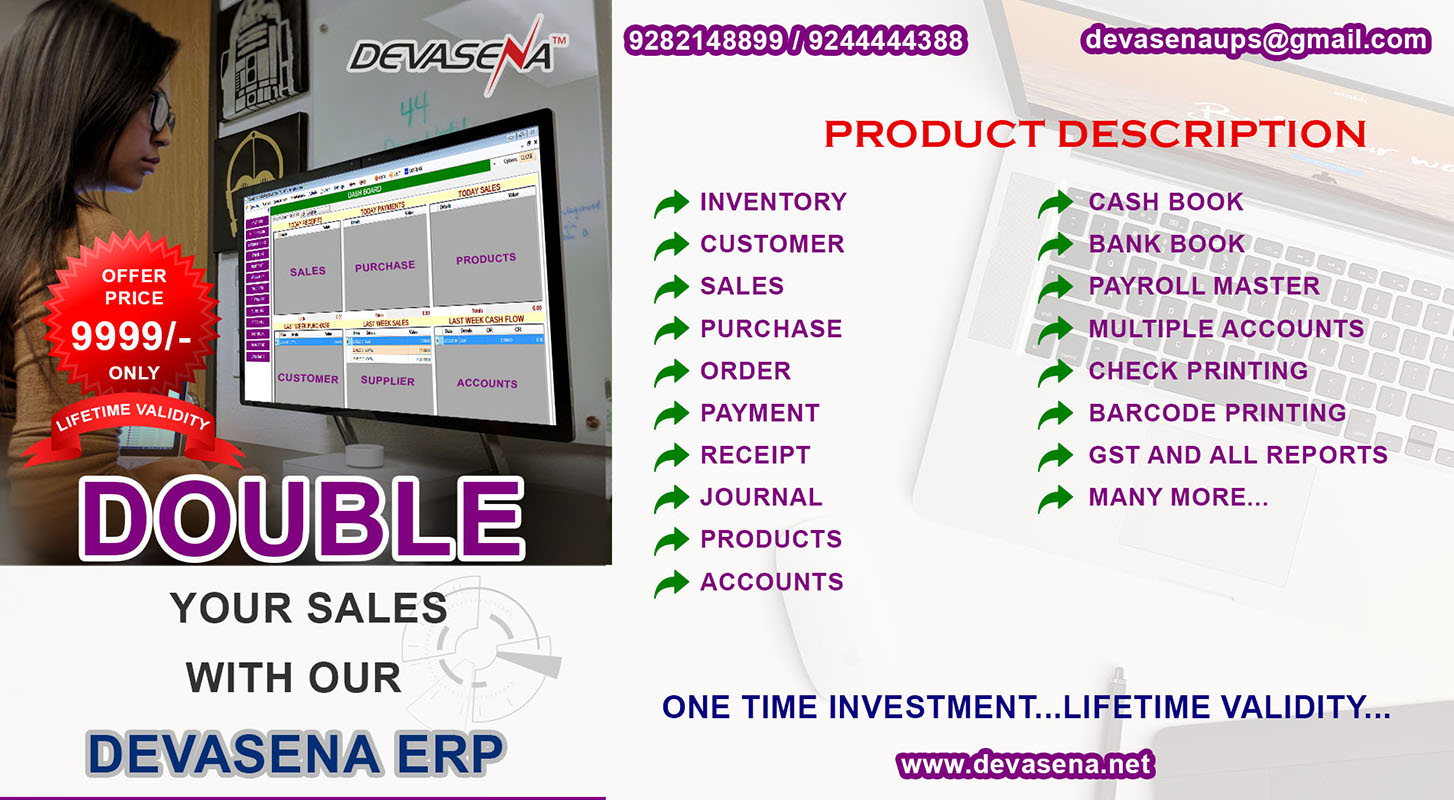 Every business requires a billing software. It helps to generate billing for the services and products which the customers have selected. The software helps to create a whole list of services along with all the related costs and the customer receives it as an invoice.
So, when it comes to a billing software, ERP is the best solution for you. ERP billing is the modern way of tackling the ever increasing business sales and revenue. It helps to reduce human efforts and minimize the errors which were often seen in manual billing. An ERP billing software helps to increase the revenue margins and improve communication.
Are you a business owner and still wondering whether you should invest in ERP billing? Then check out these top benefits that you can enjoy by using DEVASENA ERP billing software.
Rs.9,999
(+18% G.S.T) Rs.11,800
Benefits of Using ERP Billing Software
Here is a list of all the amazing benefits that an DEVASENA ERP billing software can bring to you -
Enhanced Business Reporting - ERP billing helps to bring forward better tools that come with real-time information. With the help of this software you can get all the details about any product that you have sold - the date, the time, selling price, and other information. It is the single source of truth which has been integrated to a single database. Therefore it can help you enjoy an enhanced business reporting.
Better Customer Service - the primary goal of every business should be to offer the best customer service. ERP billing helps you to do that in the best way. With this software you can get access to credit information and details about the customer who made the purchase. Unlike manual billing, ERP billing is quick and provides the invoice in a few seconds. As a result of which you can get better accuracy on every order that you receive from a customer.
Revamped Inventory Costs - managing your inventory is one of the crucial tasks to deal with when you are running a business. Your inventory should have all the in-demand items that the customers purchase the most. So, with the help of an ERP billing system, you can identify the best-selling items and services. That is why you can now invest more money on those instead of putting them on items which are not so popular among the customers. It helps you to keep the necessary things and discard the items that are nothing but a burden.
Better Data & Security - high-end security is essential for any business regardless of the size.DEVASENA ERP billing system helps to offer better security to your confidential data and accounts. You can avoid installing any malicious app or software and there are several dedicated resources provided along with the ERP system. Your data can be accessed via multiple cloud servers which keeps it secured in case of any damage to the physical machine or software.
So, here are the top benefits that you can enjoy by using DEVASENA ERP billing for your business.
Registration
Logs
Database: Backup, Restore
Customer
Sales Man
Supplier
Product
Purchase
Stock In
Service
Voucher
Billing Invoice
Payment
SMS
Records : Customer, Sales Man, Supplier, Product, Purchase, Service, Quotations, Service Billing, Payment
Reports : Sales, Stock in and Stock out, Purchase, Expenditure, Creditors and Debtors | Daybook : Purchase Daybook , General Daybook
Supplier Ledger
Customer Ledger
General Ledger
Web Designing Company in Chennai
Get Connected