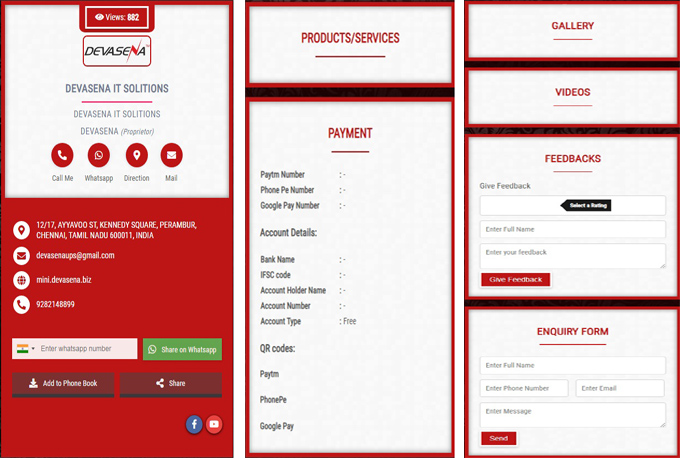 Digital Business Card which is also called as Mini-Website , its very user friendly, you can update/edit your Digital Business Card from your phone any time any place, Digital Business card helps you not only increase your brand but also increase your customer reach and has many many features in just click away.
Rs.3500

(+18% G.S.T) Rs.4130
Build, edit and create a custom test framework in minutes.
Normal website designing costs around Rs.10,000-15,000 but they are not very mobile friendly like our Mini-website, and for any up-gradation or service, you have to depend on the developer. Here in Mini-Website by investing just Rs. 3500/- you can add multiple pages like your profile/company profile, logo, all contact details, all social media links, all your service products with Title-Description, Photo, Price Tag, and Contact button.
We don't stop here, you can also upload your 20 product or service photos, 5 youtube videos, add you bank details and Google Pay, Phonepe, Paytm numbers, and Barcodes. Mini-Website also allows your customers to give you feedback/reviews, it also integrated with Contact Form / Inquiry Form – so your customer can write to you any time. All reviews and Feedbacks/inquiries reach to you in your mailbox.
High Resolution
Beautiful, free images and photos that you can download and use for any project.
Creative Design
You will find below the best Creative website designs to inspire you.
Pixel Perfect
Making a website that is perfect to a pixel level requires time and effort.
Retina Ready
A screen on a device that has a high enough pixel density that the human eye can't make out individual pixels.
Who We Are
Since its establishment in 2000 Devasena has constantly grown and expanded. With our 20 years extensive research and market exposure, We have earned a reputation for delivering top quality solutions on time and within budget, resulting in long-term customer relationships.
What We Do
People are the key strength of any organization. Our dedicated staff of Software Architects, Developers, product managers, support engineers and fastest growing network of Channel Partners / resellers have made our products available at every corner.